Ivanna Hidalgo - Risk Taking Researcher
Week 4 - Pages 133 - 167
One Day in the Life of Ivan Denisovich by Alexander Solzhenitsyn
Firstly, Alexander Solzhenitsyn obviously took a big part in this book not because he wrote it, but because he has certain connections with the book and its characters. Therefore, Alexander Solzhenitsyn's background is needed in order to look at the entire story behind Ivan Denisovich, the primary character, as well as other characters.
Solzhenitsyn was born on December 11th of the year 1918, in Kislovodsk, Russia. His life ended on August 3rd of the year 2008 ("
Aleksandr Solzhenitsyn - Biography - Author, Educator, Activist

").
In this image, Alexander seems a sorrowed man, but reflects his wise knowledge and personality.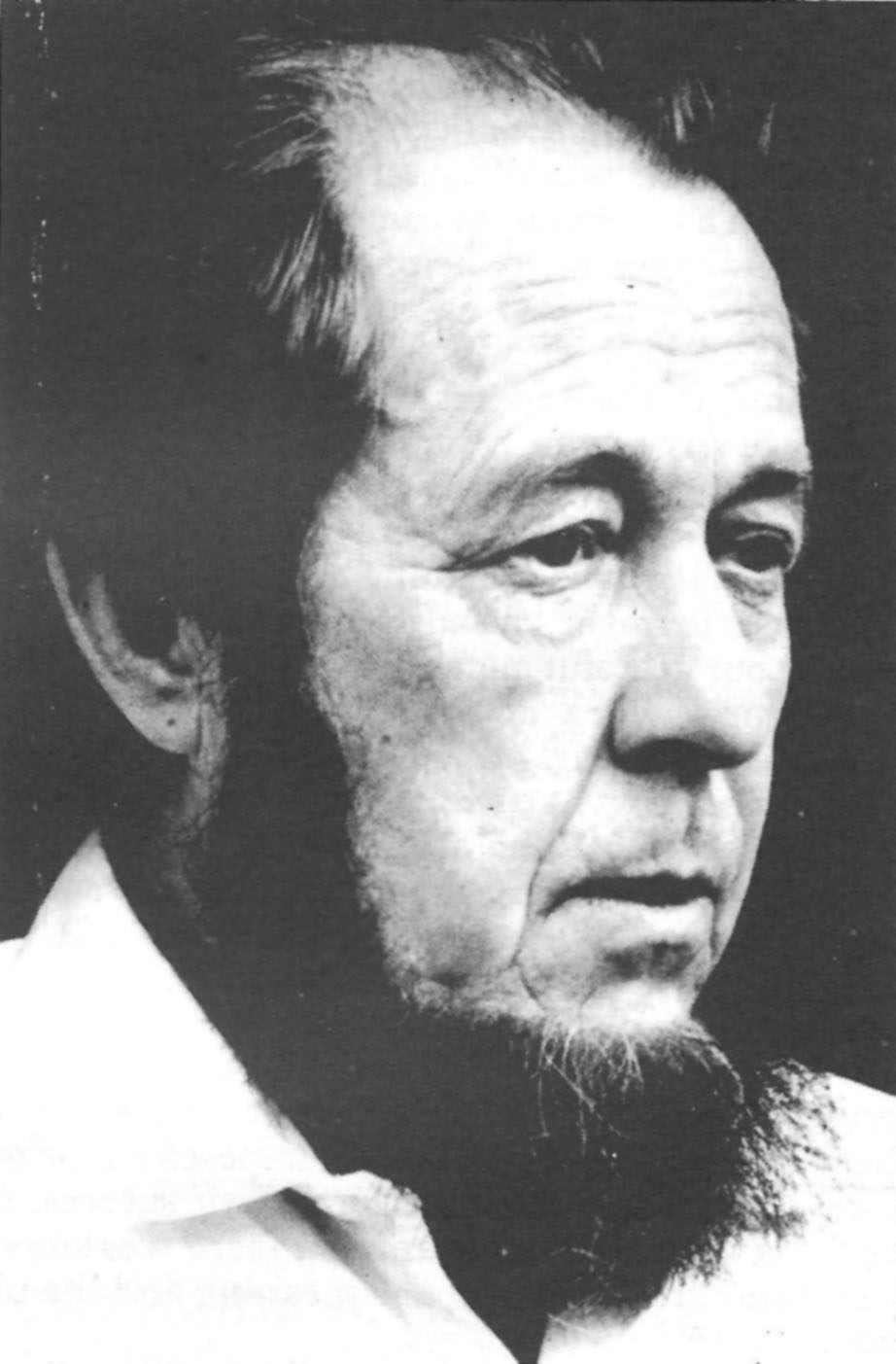 Some of
Alexander's occupations in life were to be a novelist, soldier, and teacher. Something that I noticed about all of these three occupations is that they all require a great amount of knowledge. In other words, in order to be a novelist, in different words a writer, one has to be experienced in intriguing your readers in your writing, but still making the book about something that you would be interested in. As once wise Maya Angelou stated, "there is no greater agony than bearing an untold story inside you" (GoodReads). This quote relates to Alexander Solzhenitsyn and his way of writing because as a novelist, he writes his books about his story; however he puts it in different perspectives for the readers. As another point, being a soldier requires training, practice, and even academic knowledge. These types of people need to be great problem solvers because when they're in crises, they will need to stand up. Further, with most reason, a teacher needs to know what to teach, whether its history, math, science or any other practice such as being a sport coach. One the other side, they need to know how to teach because how will their students be interested on a topic a teacher doesn't really interest in anyways? Now, these all relate to Alexander Solzhenitsyn because it tells us that he used his knowledge as the most important concept to write his book, One Day in the Life of Ivan Denisovich.
We are coming to the conclusion of how this book was written. Well, Alexander Solzhenitsyn had a history that affected the ways and reasons of One Day in the Life of Ivan Denisovich.

One Day In the Life of Ivan Denisovich

was impacted by Solzhenitsyn's historical background because he was put to service in a Siberian labor camp for 8 years caused to a letter that contained critical information about Stalin.
Alexander got his freedom back in the year of 1953. At first he wrote for because he wanted to do this for himself, afterwards on the year 1962, he published One Day in the Life of Ivan Denisovich (Ivan's experiences in a prison camp). Furthermore, this book was also the first published story of life in a Soviet labor camp.
Coming to a conclusion, Alexander Solzhenitsyn referred to his past years and started writing One Day in the Life of Ivan Denisovich with some others that related to the

Soviet camp labor systems like
The Gulag Archipelago
("Aleksandr Solzhenitsyn - Goodreads")
. From what it is inferred, Alexander wanted to somehow connect himself to Ivan Denisovich. In detail, Ivan Denisovich is the main/primary character from the One Day in the Life of Ivan Denisovich book. Moreover,
Alexander Solzhenitsyn made certain links to some events that happened to him to Shukhov (Ivan). For instance, once Ivan made the decision of saving his bread and not eating any in breakfast (Solzhenitsyn, 17). Finally, this reflects how Alexander many times felt hungry in the stay of his camp. To conclude with, the book One Day in the Life of Ivan Denisovich became some kind of clear reflection on Alexander Solzhenitsyn's life during the times were he stayed in the Siberian labor camps.
1) "Aleksandr Solzhenitsyn." Goodreads. Web. 03 May 2015. <https://www.goodreads.com/author/show/10420.Aleksandr_Solzhenitsyn>.
2) Bio.com. A&E Networks Television, Web. 03 May 2015. <http://www.biography.com/people/aleksandr-solzhenitsyn-9488509>.
3) Grossman, Lev. "Remembering Aleksandr Solzhenitsyn." Time. Time Inc., 04 Aug. 2008. Web. 03 May 2015. <http://content.time.com/time/arts/article/0,8599,1829150,00.html>.
4)
"Solzhenitsyn and the Liberals." National Vanguard RSS. Web. 10 May 2015. <http://nationalvanguard.org/2014/12/solzhenitsyn-and-the-liberals/>.
5)
"Aleksandr Solzhenitsyn." News. Web. 10 May 2015. <http://topics.nytimes.com/top/reference/timestopics/people/s/aleksandr_solzhenitsyn/index.html>.
6)
"Fifty Years After 'Denisovich,' Traveling Back To Solzhenitsyn's Gulag." RadioFreeEurope/RadioLiberty. Web. 10 May 2015. <http://www.rferl.org/content/fifty-years-after-denisovich-solzhenitsyn-visit-kazakhstan-former-site-of-gulag-camp-ekibastuz/24779476.html>.